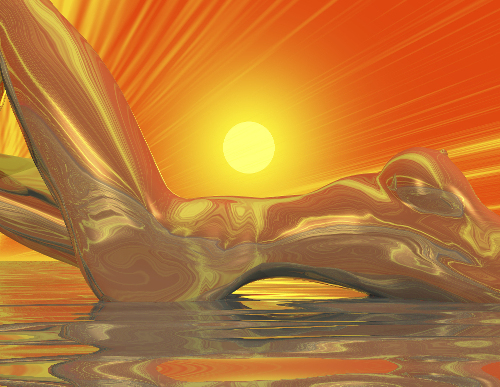 Summer Care Skin Care Tips
"Summer's here? Oh oh.. it's time to get outdoors and let the fun begin! But... It will, as usual, bring many skin issues along with it! Skin tanning, oiliness, dullness, pimples, and numerous other horrendous (at least for women!) problems can possibly arise. What to do?!!"
I know that even before summer starts, most of the woman already start worrying about how to prevent all the skin problems that lie ahead together with their potential fun trips to the beach, parks, holiday spots and so on...
Every one wants to enjoy summer to the utmost, isn't it? Well, to help you do that without facing skin issues, I have dig down best of the natural skincare tips and tricks to save your skin from damage during the sunny days... If you wanna be the beach beauty without having to compromise your exquisite skin, then read through the tips that this article's got for you!
Cleanse regularly!
Woman often let go of skin cleansing during summer because of their business and other (much more appealing) activities. It is, however, very necessary to tell you that if you don't cleanse your skin every day, be it of any type and texture, it will soon start to lose its beauty.
For summer especially, every girl should wash their face with cold water at least twice daily. I would personally recommend 6-7 times – basically, whenever you feel hot and weak. This will not only wash away the dirt from your skin but also give you a refreshing feeling, which is necessary for your mind to stay fresh as well.
Keep a good, branded cleanser in the purse whenever you plan to go out. A one with mint or cucumber extracts will do very well. Use this cleanser three times a day while washing your face. Do not use it too often because it will dry out your skin.
You can look through the list of the expert chosen cleansers on our site to get yourself the best ones in the cheapest rates.
Do something about sweat!
You sweat heavily in summer – I mean it's not a bad thing at all; your body cools down because of the sweat. However, sweat together with sebum on your skin can trap bacterial and toxins which can get absorbed into your skin over time and lead to massive breakouts, pimples, blackheads!
Again, for such issues I would recommend a quality cleanser that you can use time to time. Secondly, its great to use Rose Water! Rose water has some great cooling and refreshing properties which can reduce sweat and sebum production, both.
Don't forget to check for quality Rose Water products in our expert range!
Say no to sun-burn!
Sunshine is heavenly (of course); it has always been... But, indeed the Ultra violet radiation that comes with it is not heavenly at all, trust me! UV rays can penetrate into your exposed skin and can cause a long-term damage. It can cause skin dulling, wrinkles, breakouts, and even worst – skin cancer!!
To protect yourself from such a massive skin harm, please resort to sunscreens with a good amount of SPF in summer. Do not – yes, do not put on creams and foundations that claim to have SPF in them as they won't ever give you the maximum protection you need. They have other priorities rather than giving you protection for sun. It's best to use tinted sunscreens if you like a touch of foundation... Best tinted sunscreens and sun-protection products are available in our expert range in low costs - please have a look.
The mentioned tips are the most essential ones to put into your regime; without them you're not at all good to go out. Nevertheless, you've lots of other option to include as additional perks in your beauty regime, such as facials, manicure, pedicures, etc. Sure you can pay thousands in salons, but jutting with your self skincare remedies can really give you summer flawlessness without even doing much... Good luck!