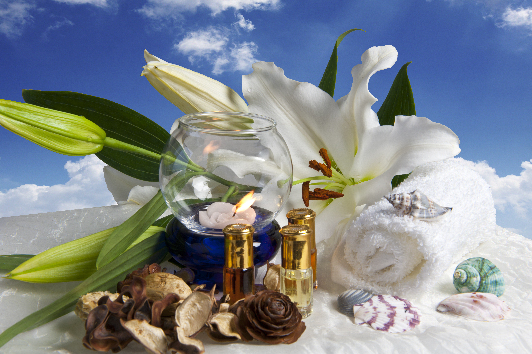 Homemade Treatments for Natural Body Care
Relax in your own home
In-home treatments are the best way to pamper yourself because you get to relax in the comfort of your own home!
There are natural home remedies for body, nail and hair care. Whichever aspect you wish to focus on, there are thousands of ancient remedies for beauty and grooming. The following are some of my personal favorites.
If you can find a few that are compatible with the ingredients you have on hand, all the better. If you usually use time as an excuse not to take better care of yourself, the following ideas will change all that. No longer do you have to book appointments in an overcrowded spa. You can enjoy luxury treatments in the privacy of your home.
A simple herbal hair rinse
An herbal rinse is soothing for the scalp and will make your hair thicker, infusing it with vitamins and natural acids that give it shine and volume.
You can make an herbal hair rinse with any ingredients you have on hand such as chamomile, rosemary or peppermint tea. Most herbs are completely safe for your scalp and hair.
Some however can gently alter the color such as chamomile. It is known to lighten the hair slightly after repeated use. To start making your herbal rinse, steep the herbs as you would steep tea and then strain. When the herbal water comes to room temperature pour over freshly shampooed hair.
Your hair will smell good and your scalp with tingle!
Make a detox bath
For a detox bath that deeply cleanses your tissues you don't have to visit a spa or bathhouse.
The cleansing ingredients can be found in your store or ordered online.
My personal favorite detox bath ingredients are Epsom sea salt (they are actually minerals and not salt at all) and Dead Sea salt.
For a really cleansing bath, pour about a cup of each into a bath of hot water, adding your essential oils of choice. Some great cleansing essential oils are lavender essential oil and chamomile essential oil. Some essential oil alternatives are tea sachets or tea bags. Since they have the essential oils in them already they make a comforting addition to your bath.
Do your own hot oil treatment!
Hot oil treatments are done for hair to prevent breaking and brittleness due to dryness.
The oil is heated, massaged into the scalp sometimes or just applied to the hair shaft. Make yourself a wonderfully hydrating hot oil treatment with olive oil and tea tree oil.
You will need a towel, a waterproof hair cap and some extra-virgin olive oil.
Begin heating the oil very slowly by double boiling. Do not overheat the oil-just until it is very warm. Then add 15 drops of tea tree oil. Begin massaging into your scalp and work your way down. Comb with a seamless comb to distribute and cover with a cap.
Wrap a towel around your head turban style and relax for half an hour while the oils penetrate your hair. Shampoo with mild shampoo or leave the oil in if desired.
Turn your bathroom into a spa
To turn your bathroom into a place to feel decadent, you can add naturally scented beeswax or soy wax candles, use all natural cleaning agents and keep some therapeutic- grade essential oils in the medicine cabinet.
Pre-mix your own natural bath salts and keep them in containers near the bath for easy access. I like to have one for relaxing, another for energizing and another for detoxifying.
Get creative and enjoy yourself! Natural-bristle brushes made of boar bristles or agave plant fiber are best for skin, hair and shower brushing. Sea sponges also work well.
It is ideal to have a skin brush that has softer bristles for the face as your face has very delicate skin-especially around the eye area.
A therapeutic kitchen
Transform your kitchen into an apothecary of wellness by keeping a health and beauty checklist. Wouldn't it be awesome if your kitchen could meet all of your beauty needs?
Fresh lemons-skin treatments, internal cleansing, nail brightening
Extra-virgin olive oil-good all-purpose carrier and base oil used for all things related to health and beauty: makes a good holistic toothpaste base, effective for daily oil-pulling, adds moisture and shine to hair and skin, etc.
Health is the foundation of beauty, making your kitchen an ideal place to store beauty ingredients and preparations.
Make sure to store anything in the refrigerator that contains perishable ingredients.
A good tip for preserving cosmetics and skin creams is to put them in the refrigerator or cellar. The oils found in cosmetics are likely to go rancid much faster than the manufacturer would let on, reducing their efficacy. Here is a sample of my beauty ingredients checklist:
Natural body care ingredients to always have on hand
Sea salt, baking soda and organic sugar- for making your own body scrubs
Raw honey- makes one of the best antibacterial moisturizers. Add some to facial cleansers and body washes for smoother skin and rapid cell turnover. Raw honey can be applied to scars, cuts, scraped and clogged pores. To use for clogged pores just warm honey using a double boil method and apply to affected areas like the t-zone
Nutrient rich foods like avocados, aloe plants (they actually grow well indoors) and pomegranates- You never know when you may need an enzyme-rich food to puree and make into a last minute facial. Having the super foods on hand sure beats any masks you will find in the store. Fresh ingredients are the key to making it worth the time you invest. Natural body care should contain the freshest ingredients possible.
Organic green tea and organic herbal tea-tea can make your skin glow by drinking it or applying it. Green tea has less caffeine and more antioxidants than black tea and for this reason makes a better topical choice. Make tea into compresses for swollen skin or dark circles under the eyes. This works a lot better than under-eye circle cream.